Shipping Policy
Shipping Timeline:
We strive to ship every order as fast as possible. Usually orders are shipped within 1 - 2 business days from our warehouse, but this is NOT a guarantee. During peak season, or at various times throughout the year, when we are backlogged with orders, it can take up to 5 business days to ship. If you are in a rush phone to check our shipping status prior to ordering. All orders are shipped via Trackable Shipping Methods and the tracking information will be updated on your order when available.
We no longer use UPS - we ship FEDEX - but the UPS shipping calculator allows us to show the net cost after our discounts and is accurate for FEDEX.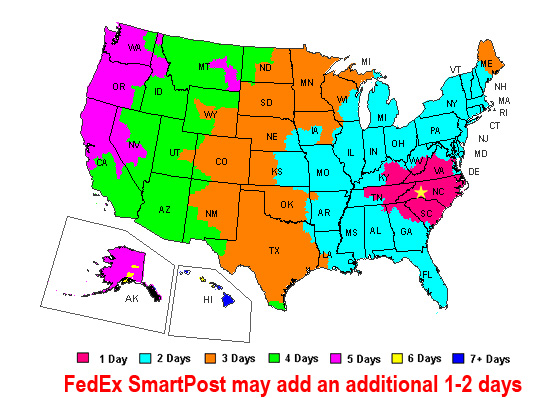 * This map is not a guarantee of shipping times but a general guideline and is valid for UPS also
Express and Overnight Shipments:
If you need your item(s) fast, we can ship via 2-Day Express or Overnight. Please Call Us at: (704) 736-1090 or Email Us at: Sales@glaspak.com to get a custom quote for 2-Day Express or Overnight rates.
Bulk Boxing:
We reserve the right to BULK BOX, which means when you order more than one of an item we may combine them in a larger box to minimize freight costs to you. We also may combine multiple items in one inner box for the same purpose. All goods in an inner box are shown on top of the box for receiving purposes.
Shipping Carriers:
We reserve the right to change our shipping carrier at any time. Selecting a carrier on the order screen is not a guarantee that we will ship via that carrier. We reserve the right to use multiple carriers including: FedEx, UPS, USPS and mixed carriers such as: FedEx SmartPost and UPS SurePost. These methods may add up to an extra 2 days to the delivery time.
Using Your Own Carrier and Account:
We can utilize buyer UPS and FedEx accounts. When the buyer wishes to use their own account they must contact us within the next business day with the order number and their FedEx or UPS account number. We will refund the shipping costs charged via the website and will utilize the buyer's account to ship products.
Freight Orders (LTL or TL):
We have negotiated some of the lowest rates possible with multiple freight lines. Please contact us at (704) 736-1090 for your custom LTL (Less Than Truckload) or TL (Truck Load) rate quotes. We will be happy to ship freight collect with your own carrier upon request.
Shipping to Canada:
All shipping rates to Canada does not include: VAT and GST. ... it does include cross border charges