One of the things we heard often was that the FIDO was great for meals in a jar – BUT the lid hanging down was a pain….    along came Luigi Bormioli (who now OWNS the Rocco Bormioli glass company and their FIDO jar brand) with a great, but fairly expensive, upgrade.
Is it worth the cost increase for the Lock Eat program – so far out customers appear to thinks so – the entire lid comes off and seals back with 1 motion! … restaurants and stores using for display have been buying up a ton…..   it will never replace the FIDO for storage or canning – but for display and meals in a jar – SUPERB in our opinion.
Check out the selection at glaspak.com – they even have a large mouth Juice jar …  a great new idea!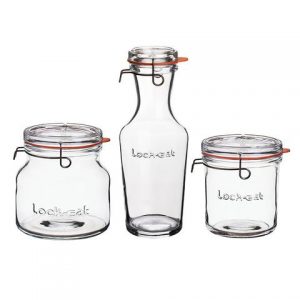 Hope you get to enjoy this new product soon! … regards, Bob