There are many uses for a Bormioli Rocco Fido Jar but one I have personally done is the "Just Add Water Instant Noodle" in a 500 ml Bormioli Rocco Fido Jar
This is a great lunch that you can make in only a few minutes and only requires access to hot water to cook.
The ingredients are pretty simple:
A Bormioli Rocco Fido Jar (size is dependent on how much you want to eat)
Beef (chicken, pork or other) base – I used "Better Than Bouillon" as my base
A "Jerky" or other Dehydrated Protein (Beef, chicken, pork … whatever you are using as your base you will want to pair with the protein).
Bean Sprouts (or other sprouts)
Cooked noodle (I prefer Udon)
Scallions
Shiitake Mushrooms
This is a very very simple recipe to make.
First you want to precook the Udon noodles (don't fully cook them… maybe subtract a minute or two from the recommended cook time. They will cook a little more when you add the hot water).
You will want to prepare your protein. Dehydrating your own protein will yield superior results to store bought jerky. I like to cut my jerky a little thicker than the store prepared and I don't dehydrate it for as long so that it retains more moisture and isn't a tough piece of leather. You can also control what flavors you add to your jerky (I like to add some Soy and Worcestershire sauce and maybe a little pepper).
After this basic prep all you do is start stacking the ingredients.
In the bottom of your Bormioli Rocco Fido Jar add a dollop (glob, spoon full, whatever measurement you want to use) of your base (In my case – Better than Bouillon). Next I like to add my noodles and sprouts. Then I add my Shiitake Mushrooms, scallions and finally my Dehydrated meat on the top.
Your basic setup should be similar to mine below.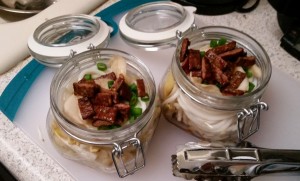 Once all of that prep is done, you simply seal up the jar and take it with you. When you are ready to consume just grab some hot water, pour it into the jar and close the lid for a few minutes. The hot water should dissolve the Base and finish cooking the noodles while re-hydrating your protein.
Warning: Do not try this in an Ikea or other Chinese made jar, they have been known to crack due to the hot water causing what is called a "thermal shock"
http://www.wholesaleglassbottles.com – $150 minimum wholesale site   click here
http://www.glaspak.com – various case size orders – wholesale on multiple cases of same item  (you are here!)
http://www.glasswarehouse.org – small order site  click here
http://www.qualityglassbottles.com – full pallet orders of same item click here